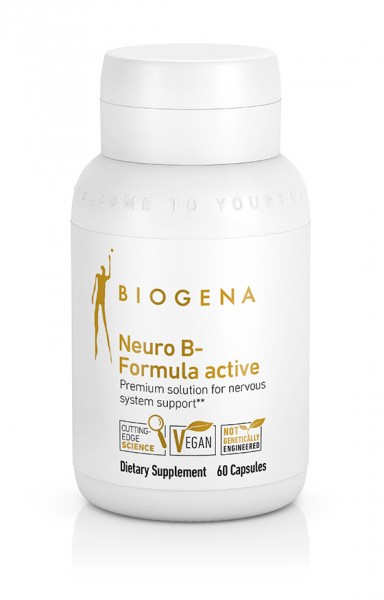 Characteristics: casein-free, dairy-free, egg-free, fish-free, free of artificial colors or flavors, fructose-free, gluten-free, lactose-free, not genetically engineered, peanut-free, preservative-free, salt-free, shellfish-free, soy-free, tree nut-free, vegan, vegetarian, wheat-free Applications: Fit at Work, Sleep, Mood & Cognitive Health, Stress Management
Neuro B-Formula active GOLD
The premium solution for nervous system support**
Buy 12 get 2 free - You save 14%
Content:
60 capsules ($0.78 * / 1 capsules)
Prices incl. Sales Tax
Ready to ship on the next business day,
Delivery time appr. 2-5 workdays
Neuro BFormula active GOLD The premium solution for nervous system support** Dietary...
more
Neuro BFormula active GOLD
The premium solution for nervous system support**
Dietary Supplement
B-complex vitamins for the inner balance of stressed nerves**
In today's fast-paced world, our body is exposed to extreme pressure, regardless of whether it is through occupation or private life. Constant deadlines and the pressure to succeed as well as the restlessness of everyday life affect both our nerves as well as perceptions and emotions and lead to a constant level of stress.
These everyday strains are particularly stressful for our psyche and often result in the little things triggering a feeling of "annoyance". In such times, it is particularly important to support the nerves in order to maintain your own inner balance. The water-soluble vitamins of the B-complex (vitamins B1, B2, B6, B12, folate, niacin, biotin and pantothenic acid) play a particular role in the healthy functioning of the nervous system and are important for the psychological functions.**
Neuro B-Formula active GOLD – what is it?
Neuro B-Formula active GOLD contains all eight B vitamins in an optimally coordinated dose as well as vitamin C and phosphatidylserine from sunflower lecithin. The vitamins B2 (riboflavin), B6 and folate are present in their activated forms, while vitamin B12 is included as all three naturally occurring vitamin B12 compounds. This preparation is the perfect companion in challenging phases of life.**
Neuro B-Formula active GOLD
High-quality high-dose preparation with improved formulation
Broad-spectrum B-vitamins to support the nervous system, inner balance and a stable psyche, particularly in times of stress**
Vitamins B1 (thiamin), B2 (riboflavin), B6, B12, niacin and biotin support the maintenance of a healthy nervous system**
Vitamins B1 (thiamin), B6, B12, folate, niacin and biotin contribute to the healthy psychological function**
The B vitamin pantothenic acid plays a role in the normal synthesis of some neurotransmitters and supports the normal mental performance**
With folate in its activated form 5-MTHF – particularly important for people whose bodies can only activate folate to a limited extent**
** These statements have not been evaluated by the Food and Drug Administration. This product is not intended to diagnose, treat, cure or prevent any disease.
| | |
| --- | --- |
| Characteristics: | casein-free, dairy-free, egg-free, fish-free, free of artificial colors or flavors, fructose-free, gluten-free, lactose-free, not genetically engineered, peanut-free, preservative-free, salt-free, shellfish-free, soy-free, tree nut-free, vegan, vegetarian, wheat-free |
| Applications: | Fit at Work, Sleep, Mood & Cognitive Health, Stress Management |
Related links to "Neuro B-Formula active GOLD"
Read, write and discuss reviews...
more
Customer review for "Neuro B-Formula active GOLD"
Write an review
Reviews will be activated after verification.